10 Empowering Books Every Woman Should Read
Everyone needs a little prompting every now and then. This is why motivational books exist. Here is our pick for the best 10 empowering books every woman should read.
#1. I Am Malala: The Girl Who Stood Up for Education and Was Shot by the Taliban
by Malala Yousafzai and Christina Lamb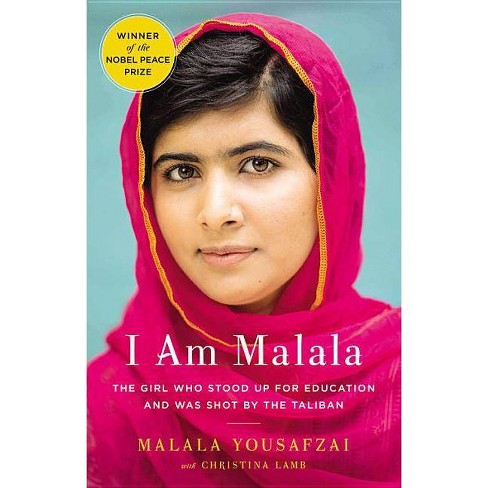 When the Taliban took control of the Swat Valley in Pakistan, one girl spoke out. Malala Yousafzai refused to be silenced and fought for her right to an education.
On Tuesday, October 9, 2012, when she was fifteen, she almost paid the ultimate price. She was shot in the head at point-blank range while riding the bus home from school, and few expected her to survive.
Instead, Malala's miraculous recovery has taken her on an extraordinary journey from a remote valley in northern Pakistan to the halls of the United Nations in New York. At sixteen, she became a global symbol of peaceful protest and the youngest nominee ever for the Nobel Peace Prize.
I AM MALALA is the remarkable tale of a family uprooted by global terrorism, of the fight for girls' education, of a father who, himself a school owner, championed and encouraged his daughter to write and attend school, and of brave parents who have a fierce love for their daughter in a society that prizes sons.
I AM MALALA will make you believe in the power of one person's voice to inspire change in the world.
Reviews:
"The touching story will not only inform you of changing conditions in Pakistan, but inspire your rebellious spirit." (Matthew Love, Time Out New York)
"Ms. Yousafzai has single-handedly turned the issue of the right of girls--and all children--to be educated into headline news. And she is a figure worth hearing." (Isabel Berwick, Financial Times)
"Wise beyond her years...." (Annie Gowen, Marie Claire)
"Riveting.... Co-written with Christina Lamb, a veteran British journalist who has an evident passion for Pakistan and can render its complicated history with pristine clarity, this is a book that should be read not only for its vivid drama but for its urgent message about the untapped power of girls.... It is difficult to imagine a chronicle of a war more moving, apart from perhaps the diary of Anne Frank. With the essential difference that we lost that girl, and by some miracle, we still have this one." (Marie Arana, Washington Post)
"Remarkable...a must-read, first-person account of her journey through global terrorism, her brave, encouraging parents, and her own fight for girls' education." (MarieClaire.com)
A collection of essays spanning politics, criticism, and feminism from one of the most-watched young cultural observers of her generation, Roxane Gay.
"Pink is my favorite color. I used to say my favorite color was black to be cool, but it is pink—all shades of pink. If I have an accessory, it is probably pink. I read Vogue, and I'm not doing it ironically, though it might seem that way. I once live-tweeted the September issue."
In these funny and insightful essays, Roxane Gay takes us through the journey of her evolution as a woman (Sweet Valley High) of color (The Help) while also taking readers on a ride through culture of the last few years (Girls, Django in Chains) and commenting on the state of feminism today (abortion, Chris Brown). The portrait that emerges is not only one of an incredibly insightful woman continually growing to understand herself and our society, but also one of our culture.
Bad Feminist is a sharp, funny, and spot-on look at the ways in which the culture we consume becomes who we are, and an inspiring call-to-arms of all the ways we still need to do better, coming from one of our most interesting and important cultural critics.
Reviews:
"A strikingly fresh cultural critic." (Ron Charles, Washington Post)
"Arresting and sensitive. . . . An author who filters every observation through her deep sense of the world as fractured, beautiful, and complex." (Slate)
"[A] touching and crucial essay collection. . . . If you're interested in critical thinking about culture, this book is a must." (Newsweek)
"Roxane Gay is the brilliant girl-next-door: your best friend and your sharpest critic. . . . She is by turns provocative, chilling, hilarious; she is also required reading." (People)
In her comic, scathing essay, "Men Explain Things to Me," Rebecca Solnit took on what often goes wrong in conversations between men and women. She wrote about men who wrongly assume they know things and wrongly assume women don't, about why this arises, and how this aspect of the gender wars works, airing some of her own hilariously awful encounters.
Reviews:
"This slim book—seven essays, punctuated by enigmatic, haunting paintings by Ana Teresa Fernandez—hums with power and wit."—Boston Globe
"The antidote to mansplaining."—The Stranger
"Feminist, frequently funny, unflinchingly honest and often scathing in its conclusions."—Salon
"Solnit tackles big themes of gender and power in these accessible essays. Honest and full of wit, this is an integral read that furthers the conversation on feminism and contemporary society."—San Francisco Chronicle Top Shelf
#
4. Redefining Realness: My Path to Womanhood, Identity, Love & So Much More
by Janet Mock
In her profound and courageous New York Times bestseller, Janet Mock establishes herself as a resounding and inspirational voice for the transgender community—and anyone fighting to define themselves on their own terms.
With unflinching honesty and moving prose, Janet Mock relays her experiences of growing up young, multiracial, poor, and trans in America, offering readers accessible language while imparting vital insight about the unique challenges and vulnerabilities of a marginalized and misunderstood population. Though undoubtedly an account of one woman's quest for self at all costs, Redefining Realness is a powerful vision of possibility and self-realization, pushing us all toward greater acceptance of one another—and of ourselves—showing as never before how to be unapologetic and real.
Reviews:
"Far too many assume that Janet Mock's story is primarily about her body. This book is irrefutable evidence that Janet must be understood through her intellect, spirit, and wit. Janet does what only great writers of autobiography accomplish—she tells a story of the self, which turns out to be a reflection of all humanity. You will be changed by this book." -- Melissa Harris-Perry, Wake Forest University Professor and host of MSNBC's "Melissa Harris-Perry"
"A fiery success." -The Atlantic
"Mock's compelling memoir entrancingly chronicles the story of a multiracial trans woman's becoming within a society that is still widely antagonistic to the non-White, non-male, transgender, and economically challenged among us. . . . Mock has written herself into herstory. And she has done so with clarity and poetic brilliance." - The Feminist Wire
The decisions that change your life are often the most impulsive ones.
Unexpectedly denied a visa to remain in the United States, Qanta Ahmed, a young British Muslim doctor, becomes an outcast in motion. On a whim, she accepts an exciting position in Saudi Arabia. This is not just a new job; this is a chance at adventure in an exotic land she thinks she understands, a place she hopes she will belong.
What she discovers is vastly different. The Kingdom is a world apart, a land of unparralled contrast. She finds rejection and scorn in the places she believed would most embrace her, but also humor, honesty, loyalty and love.
And for Qanta, more than anything, it is a land of opportunity. A place where she discovers what it takes for one woman to recreate herself in the land of invisible women.
Reviews:
"In this stunningly written book, a Western trained Muslim doctor brings alive what it means for a woman to live in the Saudi Kingdom. I've rarely experienced so vividly the shunning and shaming, racism and anti-Semitism, but the surprise is how Dr. Ahmed also finds tenderness at the tattered edges of extremism, and a life-changing pilgrimage back to her Muslim faith." - Gail Sheehy
With Pulitzer Prize winners Nicholas D. Kristof and Sheryl WuDunn as our guides, we undertake an odyssey through Africa and Asia to meet the extraordinary women struggling there, among them a Cambodian teenager sold into sex slavery and an Ethiopian woman who suffered devastating injuries in childbirth. Drawing on the breadth of their combined reporting experience, Kristof and WuDunn depict our world with anger, sadness, clarity, and, ultimately, hope.
They show how a little help can transform the lives of women and girls abroad. That Cambodian girl eventually escaped from her brothel and, with assistance from an aid group, built a thriving retail business that supports her family. The Ethiopian woman had her injuries repaired and in time became a surgeon. A Zimbabwean mother of five, counseled to return to school, earned her doctorate and became an expert on AIDS.
Through these stories, Kristof and WuDunn help us see that the key to economic progress lies in unleashing women's potential. They make clear how so many people have helped to do just that, and how we can each do our part. Throughout much of the world, the greatest unexploited economic resource is the female half of the population. Countries such as China have prospered precisely because they emancipated women and brought them into the formal economy. Unleashing that process globally is not only the right thing to do; it's also the best strategy for fighting poverty.
Reviews:
"Opens our eyes to an enormous humanitarian issue." —Washington Post 10 Best Books of the Year
"Vitally important. . . . Heartbreaking, galvanizing, and unforgettable." —Publishers Weekly Top 100 Books of 2009
"This book isn't a sermon. . . . These stories are electrifying and have the effect of breaking down this enormous problem into segments the reader can focus on. Suddenly, these horrendous problems begin to seem solvable . . . Again, this book is not a sermon about victims. Its range is wide, and sometimes it's even funny . . . Half the Sky is a call to arms, a call for help, a call for contributions, but also a call for volunteers. It asks us to open our eyes to this enormous humanitarian issue. It does so with exquisitely crafted prose and sensationally interesting material . . . I really do think this is one of the most important books I have ever reviewed." —Carolyn See, The Washington Post
#
7. Braving the Wilderness: The Quest for True Belonging and the Courage to Stand Alone
by Brené Brown
"True belonging doesn't require us to change who we are. It requires us to be who we are." Social scientist Brené Brown, PhD, LMSW, has sparked a global conversation about the experiences that bring meaning to our lives—experiences of courage, vulnerability, love, belonging, shame, and empathy. In Braving the Wilderness, Brown redefines what it means to truly belong in an age of increased polarization. With her trademark mix of research, storytelling, and honesty, Brown will again change the cultural conversation while mapping a clear path to true belonging.
Brown argues that we're experiencing a spiritual crisis of disconnection, and introduces four practices of true belonging that challenge everything we believe about ourselves and each other. She writes, "True belonging requires us to believe in and belong to ourselves so fully that we can find sacredness both in being a part of something and in standing alone when necessary. But in a culture that's rife with perfectionism and pleasing, and with the erosion of civility, it's easy to stay quiet, hide in our ideological bunkers, or fit in rather than show up as our true selves and brave the wilderness of uncertainty and criticism. But true belonging is not something we negotiate or accomplish with others; it's a daily practice that demands integrity and authenticity. It's a personal commitment that we carry in our hearts." Brown offers us the clarity and courage we need to find our way back to ourselves and to each other. And that path cuts right through the wilderness. Brown writes, "The wilderness is an untamed, unpredictable place of solitude and searching. It is a place as dangerous as it is breathtaking, a place as sought after as it is feared. But it turns out to be the place of true belonging, and it's the bravest and most sacred place you will ever stand."
Reviews:
"[Brown's] research and work have given us a new vocabulary, a way to talk with each other about the ideas and feelings and fears we've all had but haven't quite known how to articulate. . . . [She] empowers us each to be a little more courageous."—The Huffington Post
"It is inevitable—we will fall. We will fail. We will not know how to react or what to do. No matter how or when it happens, we will all have a choice—do we get up or not? Thankfully, Brené Brown is there with an outstretched arm to help us up."—Simon Sinek, author of Start with Why and Leaders Eat Last
"With a fresh perspective that marries research and humor, Brown offers compassion while delivering thought-provoking ideas about relationships—with others and with oneself."—Publishers Weekly
#
8. The Feminine Mystique
by Betty Friedan
Landmark, groundbreaking, classic―these adjectives barely describe the earthshaking and long-lasting effects of Betty Friedan's The Feminine Mystique. This is the book that defined "the problem that has no name," that launched the Second Wave of the feminist movement, and has been awakening women and men with its insights into social relations, which still remain fresh, ever since
Reviews:
"[A] bridge between conservative and radical elements in feminism, an ardent advocate of harmony and human values." - Marilyn French, Esquire
"The book that pulled the trigger on history." - Alvin Toffler, author of Future Shock
"One of those rare books we are endowed with only once in several decades." - Amitai Etzioni, author of The Spirit of Community: The Reinvention of American Society
"[The Feminine Mystique] now feels both revolutionary and utterly contemporary. . . . Four decades later, millions of individual transformations later, there is still so much to learn from this book. . . . Those who think of it as solely a feminist manifesto ought to revisit its pages to get a sense of the magnitude of the research and reporting Friedan undertook." - Anna Quindlen
Outrageous Acts and Everyday Rebellions—a phenomenal success that sold nearly half a million copies since its original publication in 1983—is Gloria Steinem's most diverse and timeless collection of essays. Both male and female readers have acclaimed it as a witty, warm, and life-changing view of the world—"as if women mattered." Steinem's truly personal writing is here, from the humorous exposé "I Was a Playboy Bunny" to the moving tribute to her mother "Ruth's Song (Because She Could Not Sing It)" to prescient essays on female genital mutilation and the difference between erotica and pornography. The satirical and hilarious "If Men Could Menstruate" alone is worth the price of admission.
"From her hilarious account of life as an overworked Playboy Bunny to the moving tribute to her mother, Gloria Steinem's first collection of essays is-and will always be-a required feminist reader. "- Susan Faludi, author of Backlash
Ten years ago, Jena Lee Nardella was a fresh-out-of-college, twenty-something with the lofty goal of truly changing the world. Armed with a diploma, a thousand dollars, and a dream to build one thousand wells in Africa, she joined forces with Grammy Award-winning band Jars of Clay to found Blood: Water and begin her mission.
Jena's dream for her nonprofit turned that initial $1 into $20, and then $100, and today into more than $25 million. Working throughout eleven countries in Africa, Blood: Water has provided healthcare for over 62,000 people in HIV-affected areas and has partnered with communities to provide clean water for more than one million people in Africa. But along the way she faced many harsh realities that have tested her faith, encountered corruption and brokenness that nearly destroyed everything she'd fought for, and learned that wishful thinking will not get you very far. Jena discovered true change comes only when you stop trying to save the world and allow yourself to love it, even when it breaks your heart.
With a fresh, intelligent, and winsome voice, Jena Lee Nardella weaves an evocative, personal narrative filled with honest and hard-won lessons that demonstrate the amazing things that can happen when you fight for your dreams.
Reviews:
"Original, perceptive, and compelling… In an astonishingly honest voice, Jena Lee Nardella reflects on the questions we ask ourselves when the odds are overwhelmingly against us - why hope that seems foolish is still necessary." -Amy Tan, bestselling author of The Joy Luck Club
"Very few people can write a book about how they have already changed the world before they're even 30. Jena is one of those rare gifts from God. Her story, her heart, and her journey of bringing clean, fresh, life-giving water to the people in Africa is one you will never forget. Read One Thousand Wells and then help her dig some more." -Kathie Lee Gifford
"Jena's story will inspire you to go out and live a great story. And though the work she does is serious business, she never takes herself too seriously. She invites you into her world like an old friend." -Donald Miller, bestselling author of Blue like Jazz
"Buckle up, you're about to meet one of love's heroes." -Bob Goff, Hon. Consul, Republic of Uganda; author of Love Does
"An authentic and inspiring read for those who want to make a difference in the world." -Tony Hale, Emmy-Award winning actor from Arrested Development and Veep
You might be interested in